Building Chicago's 311 System
We can order food and a ride with just a few clicks and swipes. Why aren't government services accessible in the same way? Well, in Chicago, they are.
Nearly three million people call the City of Chicago home. In the city with one of the biggest non-emergency 311 systems nationwide, a constituency of this size equates to thousands of calls coming into Chicago's 311 call center daily. So when the system was nearing its 20th year in operation, virtually unchanged since its launch in 1999, the city knew it was ready for an upgrade. In close collaboration with Chicago's Department of Assets, Information and Services (AIS) and 311, Catalyst leveraged Salesforce's Government Cloud to modernize the city's 311 system by bringing it onto the cloud, increase interdepartmental collaboration, and improve the city's communication with its residents.
Before updating to Salesforce, Chicago's 311 consisted of a Motorola-based CRM, a public-facing service request intake form, and a mobile text-to-case feature that supported 13 service requests. Moving the 311 call center and the 33 city departments it supports over to the new system resulted in one of the largest 311 modernization projects in North America to-date. The new system consists of a cloud-based CRM, field service management, a digital knowledge base, an intuitive community portal, and the city's first-ever citizen facing mobile application.
Case Management
The City's new 311 system improves existing functionality, but also adds many new features that city departments, 311 operators, and city residents can take advantage of. At the core of this system, though, is modern case management. While 70% of the calls 311 receives are informational, about 30% are infrastructure-related and require the attention of city departments.
Chicago's new CHI311 utilizes Salesforce's Service Cloud to create a case from multiple channels: 311 operators via the call center, city departments in the field, and residents using the new Community Portal and mobile app. From there, automated case routing sends the case to the appropriate department to be worked via guided flows for admins in the office and Salesforce's Field Service Lightning for the department workers in the field. Digitizing the city's work order management alone has saved the city time and money.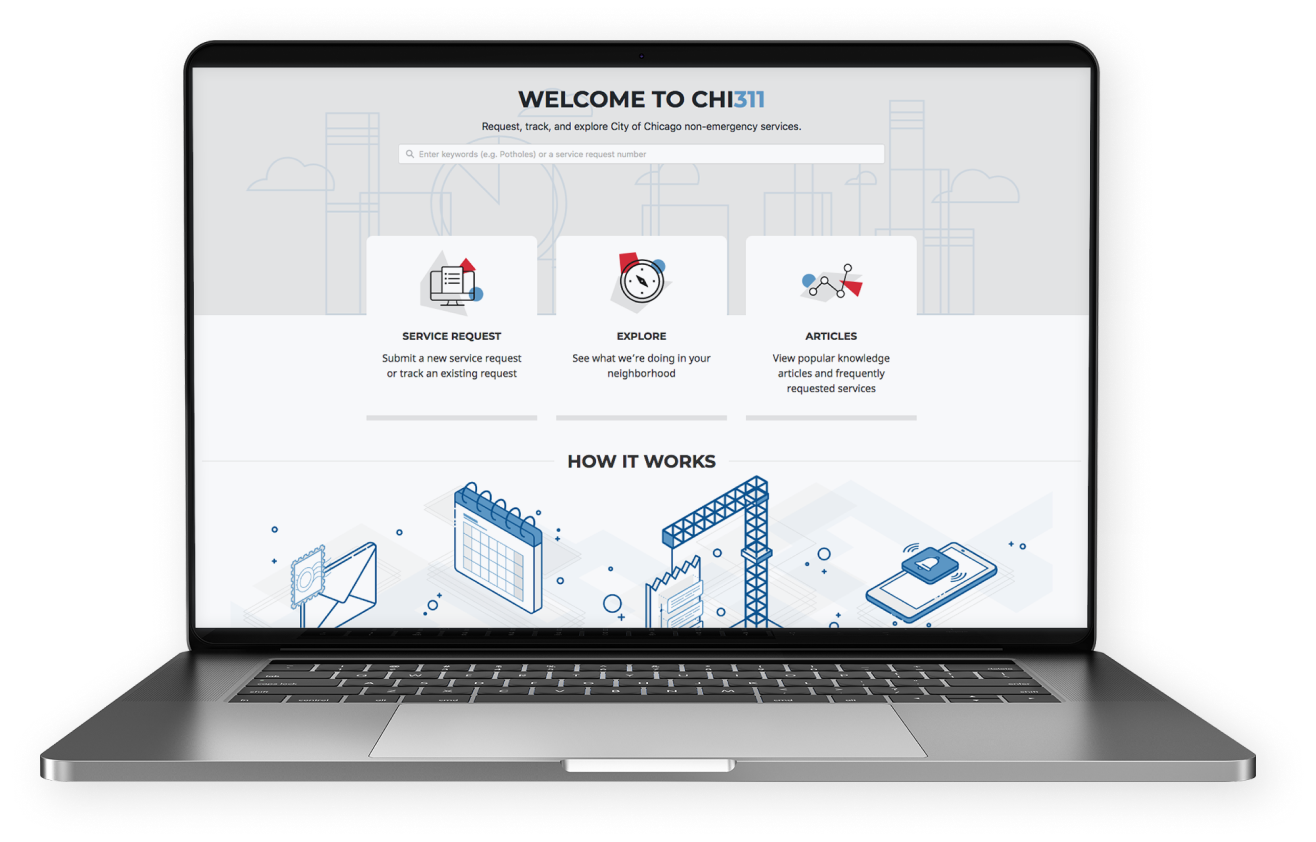 Public-Facing Community Portal
Prior to launch, the easiest way for residents to submit a service request was by calling 3-1-1. The city had a web-based intake form but it was neither user-friendly nor intuitive. Furthermore, the only way residents could track the progress of their service request was also by calling 3-1-1 for updates. To help the city achieve its goal of providing an Amazon-like experience for residents, we leveraged Salesforce's Community Cloud to develop a best-in-class public-facing website: CHI311.
The biggest gain from the new CHI311 community portal is the ability to track a service request from submission to completion completely online. Through the portal's "Check Status" feature users can now check the status of their request at any point, understand the estimated days expected to complete their request, and see real-time updates from city departments regarding the progress of their work.
Mobile Application
Much like the community portal, the City's first-ever citizen facing mobile application takes the burden off 311 operators and provides an outlet for resident self-service. The CHI311 mobile application is integrated with the backend Salesforce CRM solution to allow residents to submit service requests, check the status of their request, and search for other requests in their neighborhood.
Additionally, the CHI311 mobile app provides users with personalized city information based on their location such as ward and alderman. Geospatial information through the "Near Me" functionality acts as a guide for locating important city locations such as the nearest CTA station, post office, police station, library, and more. This makes the CHI311 mobile app more than just a way to request and track services: it's a way to get around the city. Chicago is a city of 2.8 million people, 77 community areas, 140 bus routes, 8 subway lines, 80 public libraries, and 69 post offices, all of which are encompassed in this one app.
Knowledge Base
Nearly 70% of Chicago's 311 call center intake is informational, so it is important to provide residents with a digital library allowing them to self-serve but to also modernize the way 311 operators share and manage helpful city information. The legacy system provided no outlet for operators to digitally access and share relevant, updated information such as department news, flyers, hours of operation, or contact numbers. Prior to launching CHI311, operators maintained a series of paper-based binders that housed years' worth of departmental assets. The binders were difficult to maintain and often out of date.
By leveraging Salesforce's Knowledge our team is able to transform 311's paper-based binders to a fully-digital library that is easily accessible and maintainable. Our team worked with every department to update existing articles and create new ones when needed. Through the new knowledge base, departments take ownership of the information they share with 311, removing the burden from 311 operators. Departments can choose whether to share a knowledge article on the community portal and mobile app or not, opening the digital library up to residents to self-serve when possible and improving the flow of information.
Departmental Collaboration and Communication
With 33 distinct departments each encompassing additional bureaus and divisions, departmental collaboration and communication is of the highest importance to the City of Chicago. In the legacy system, departments were siloed and rarely worked together to resolve resident service requests. Even when a request would transfer from department to department, the legacy system did not fully support the transfer of information often necessary to properly carry out the work.
Prior to CHI311, there was no distinction between a service request and a work order. Our team worked with DoIT, 311, and city departments to separate service requests (cases) and work orders (departmental work). In the new system, when a resident makes a request, both a service request and a work order are created. With this new approach, all department work is handled through work orders which all roll-up under the resident's service request. This allows departments to carry-out their work but to create multiple work orders under the same service request and communicate easily across work orders. This provides residents with a full view of the work required to complete their request and keeps them in a constant flow of communication with the City. Most importantly, our team consolidated the activities departments use to describe their work and updated the language to terms that residents would understand.
System Integration
Since Chicago's 311 system is one of the largest in the nation- taking in requests for everything from graffiti complaints to senior well-being checks- the system interacts with nearly every city department. CHI311 sits at the center of a web of over 15 inter-related and non-related systems used by each department. It is the system integrations that allow departments and city vendors to receive a work order, complete the work, and close out the request without having to log into a separate system.
Our team worked with stakeholders from each city department to ensure the flow of data and information between their system data and the new CHI311 was seamless. In the process we standardized workflows, identified unique integration points, and assisted in making edits to both systems when necessary.
Reporting
The legacy system housed thousands of reports used by 311 and city departments. To ensure we did not remove functionality from departments on the new system, our team recreated essential city reports using Salesforce's reporting capabilities within Service Cloud but also through Salesforce's Einstein Analytics. This allows users to access the same data points they had in the old system and also create and run their own reports using the additional data in the new system.
Since all data within Salesforce is reportable, our team further improved the department experience by creating unique dashboards that provide key performance metrics upon login that are customizable by department or individual user such as number of work orders completed/open, resource performance, cases by source, and more.
Duplicate Management
While duplication detection existed in the legacy system, it was not modern enough to assist departments with case or resource management. Our team worked with AIS, 311, and every department to identify the duplication criteria used by the legacy system and update it as necessary. In the new system, when a request is entered by a 311 operator or by a resident via the community portal or mobile app it is run through duplication criteria set for that specific request.
Recognizing duplicates prevents re-work by departments while also allowing departments to detect when a specific area in the city is experiencing a high-priority issue. Additionally, before presenting the intake form to users on the community portal and mobile app users are provided with the number of times that same request has been submitted by other users. This gives users the option to continue with their request or to simply follow the existing request that is already in-the-works with the city, providing them with more system insight than ever before.
Improved City Transparency
While the old system was cumbersome for the City, it left much to be desired from the resident's perspective as well. Through focus groups, online forums, and discussions with the City of Chicago it was apparent that residents wanted to see the service requests submitted in their neighborhood and the speed at which the city completed them. Similarly, the city wanted a feature that would show residents how they approached requests with equality.
The new "Explore" feature on the community portal and mobile app allows any resident to keep tabs on any neighborhood in Chicago to see which requests are submitted there, how many have been submitted, and how many are completed over a set period of time. Our solution not only improves transparency across all neighborhoods but allows residents to gain a full view of where the City sends its field workers to monitor and guarantee the equitable distribution of public services.
Rather than just providing residents with a status of open or completed, residents can now track their service request at any point in the process between "open" and "completed." These in-depth details along the way holds the City accountable for completing requests and allow residents to be rest assured knowing that their City is listening to them.